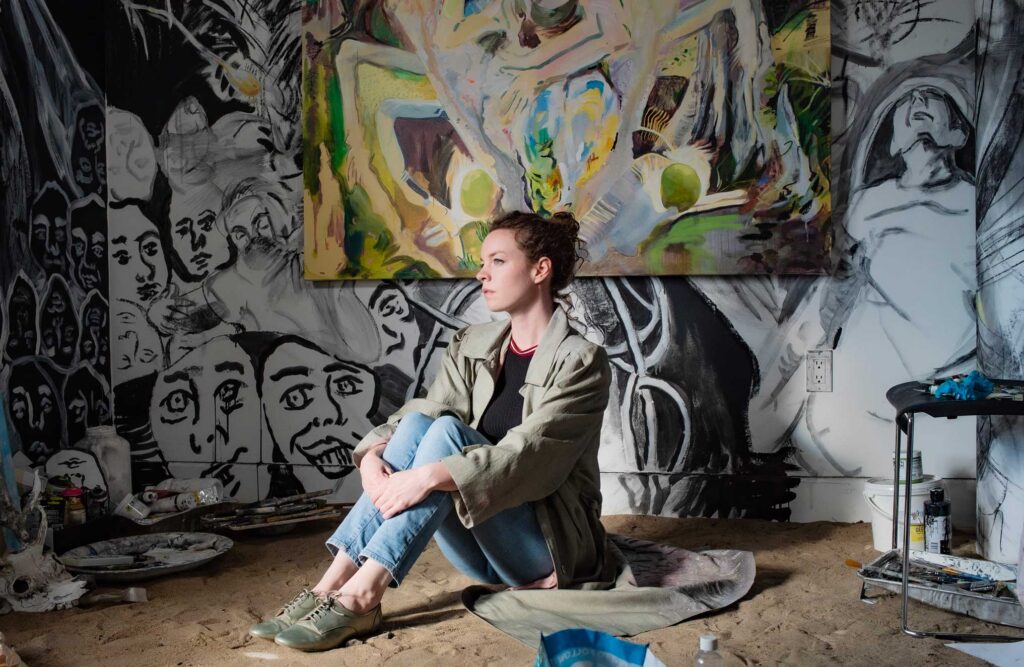 Rachel Gray is a Canadian interdisciplinary artist and creative leader based in Algonquin Territory/ Ottawa. Navigating the world with Dyslexia has led her to explore art as a way to create customized language. Her work spans multiple media and tries to speak into the places language leaves blank. Her projects are connected by an interest in expressive mark-making, performance, immersive installation, and storytelling. 
Her drawings and installations have been exhibited nationally and internationally including at City Hall Art Gallery (Ottawa), General Assembly (Ottawa), Blackhouse (Montreal), and in the AIRIE Nest Gallery as part of a residency in the Everglades National Park (Florida). Her work was acquired by the City of Ottawa, the National Park Service, and is in private collections across North America.  
Rachel has collaborated extensively with musicians, film makers, and dancers and her animations, illustrations, costumes and puppets have been featured in films and productions including Witch Woman (2022), Today! (2019) and Imago (2022). 
Rachel is the author of Jess (2020), a graphic novel that explores health, loss and friendship  created during a three year residency at the Ottawa School of Art. This project was adapted into an opera commissioned by Pacific Opera Victoria in 2022. In 2022 Rachel was awarded a National Prize for Opera Commission from Musique 3 Femmes. This commission will premiere in spring of 2024 at Salle Bourgie in Montreal. 
Rachel is deeply connected to the disability arts community. She served as both the Artistic and Executive Director (2020-2022) of BEING Studio, a community of artists with developmental disabilities based in Ottawa. In these roles she advocated for accessible art practices, curated exhibitions, and worked directly with artists to develop creative projects. She continues to work with BEING as a Creative Consultant. 
Rachel also produced two seasons of BEING Studio's podcast SPEAK, a creative audio project that shares the voices and stories of artists with developmental disabilities. 
Rachel's work in Disability arts led to ongoing collaborations with organizations and academic institutions including Re:Vision the Center for Art and Social Justice at the University of Guelph. These projects seek to harness art and storytelling to communicate information in accessible ways. These projects include the Artist Connect Report and Into the Light: An Interpretation of two research papers. 
Rachel is a founding member of Ghost Rooster, a disability arts collective centering creative approaches to access at the intersection of dance and film. 
Rachel continues to seek out opportunities to collaborate and to explore art as a site for community connection.